Association Pro Media Leventina
News
Origin and Activity
Articles of the Association
Contact
Piottino
Tours through the gorge
History
Travel
Pictures
Projects
Piumogna (in German)
Historische Strasse in der Piottino-Schlucht, Wiederaufbau und Aufwertung (in German)
Information
Bellinzonese e Alto Ticino
Dazio Grande
Cultural Routes Switzerland
Via Storia
|
|
|
|
|
|
|
|
|
|
|
|
|
|
|
|
|


The Piottino: For centuries, this was a critical bottleneck in the flow of goods and persons across the Gotthard.
Rewarding location for a short stay: circuito Piottino
Delightful excursions in the Leventina: Strada bassa della Leventina
Piottino-Tour (ca.1.5 hours)
Starting Point
The Dazio Grande at the entrance to the gorge forms the start and finish of the tour. This was the original border between the Forest Cantons of Central Switzerland and the Ticino-region, which was at that time ruled from Milan. From 1560 onwards, when the first path was built through the gorge, the customs post took on greater importance as traffic increased. Over time, following the incursion of French revolutionary troops in 1798, an independent Canton emerged in Ticino and the national border was moved to Chiasso. Thereafter the Dazio Grande lost its significance.

Round trip
The fascinating late-medieval road climbs the right-hand side of the valley, by-passes the gorge on the heights and descends to the Ponte di Mezzo (or "Middle Bridge", 1820). From there, the "Uri Mule Track" (1560) leads back up the gorge to the starting point. The Sights along the way are described in a tour guidebook obtainable at the Dazio Grande.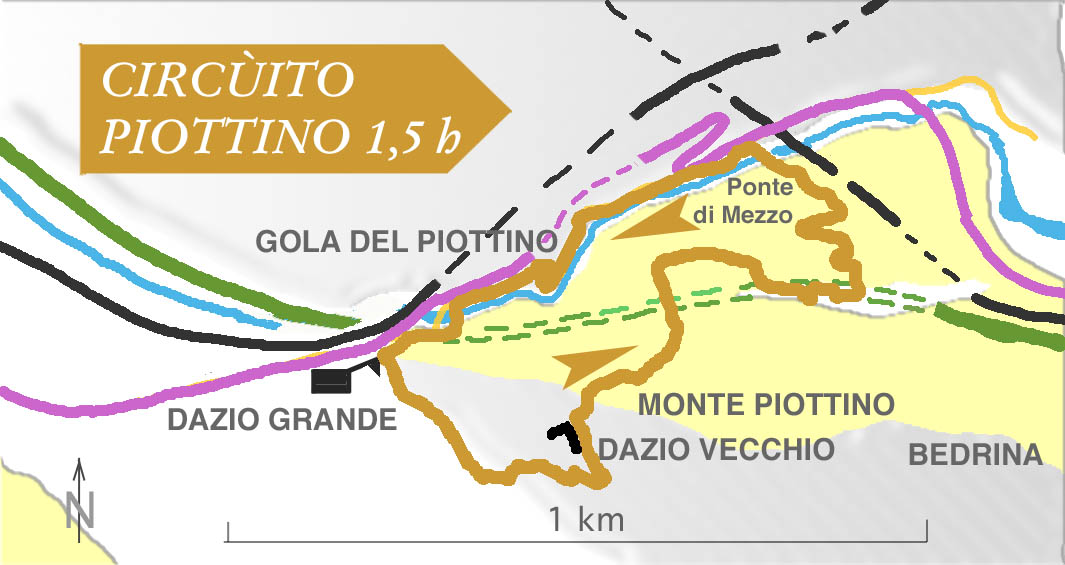 Airolo - Biasca: The low road through the Leventina
Day 1: Airolo - Piottino - Mairengo - Faido; 18 km. 5 hours
Day 2: Faido - Chironico - Giornico; 13 km. 4 hours
Day 3: Giornico - Bodio - Biasca; 11 km. 2 hours (part of the way by bus)